Technology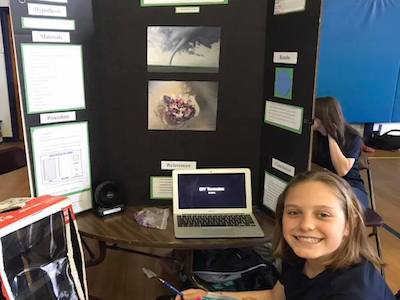 In 2012, Holy Cross School embarked on an ambitious project to move our school and students to the forefront of integrated technology education. Supported by our families, that initiative has grown and expanded and is a cornerstone of the school's efforts to produce graduates who are ready to meet the world and succeed.
Through funding sources and the generosity of parents and benefactors, Holy Cross joined the State of Maine's Learning and Technology Initiative (MLTI). This program provides technology devices to students and faculty throughout the state in participating school districts. For Holy Cross, the challenge was to fund the program given our private school status.
Through MLTI, Holy Cross now provides:
A Macbook Air laptop to every student in grades 5-8
An iPad 2 to every student in grades 3 and 4
MacBooks and/or iPads to every member of the faculty
Apple TV in participating classrooms
Student devices become theirs throughout the school year. They are taken home and used for school work throughout the year.
In addition, Holy Cross has developed a number of other resources and technologies to assist in making technology a tool in the educational toolbox.
Holy Cross has:
Provided extensive professional development to our faculty in the use of technology and the integration of technology into every phase of education
Installed a campus-wide wireless network that allows access to a world of resources for students and staff
Purchased e-textbooks in Social Studies for the Middle School to replace the costly and weighty traditional textbook
Digitalizing our school library's catalog and borrowing system
Moved to the use of Teacher Ease, an online grading, communications, information site for administrative support to the school and our teachers. Teacher Ease provides a parent/ student portal where families may view student progress in real time.
Subscribed to the Honeywell Instant Alert system that communicates messages to all of our families for school cancelations, emergencies and other important time-sensitive information.
Holy Cross is dedicated to the complete education of our students and technology plays a significant role.