Holy Cross Tuition and Fees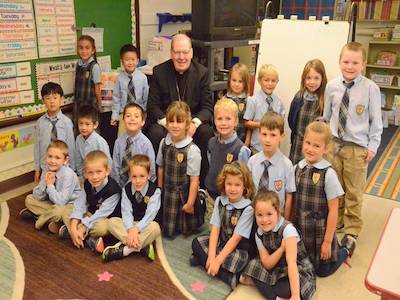 Prompt and continuous payment of family tuition is paramount for the success of the school. The school relies on your timely tuition payment to operate in the black, pay teachers and invoices on time. Please, please, pay your tuition bill. If there is an unexpected emergency and you have an issue please notify the Principal and/or Business Manager immediately so we can help with the challenge. It is not fair for others to pay their tuition payments on time if you are not paying your tuition payments on time.
Income for the School's operating budget comes from tuition paid by families, Parish subsidies (which may or may not apply to each student), and money raised through fundraising events sponsored by the Home and School Association. Parish subsidies are granted based on the requirements of each individual Parish, and it is the responsibility of each family to apply for the subsidy.
Families pay tuition through the FACTS Tuition Management Program. Families who wish to lower their monthly budgeted payments, may choose to pay one larger amount to the school before July 1 of the upcoming school year and budget the balance through
FACTS.
Families who choose to budget payments must complete the FACTS Automatic Tuition
Payment agreement and return it to the Business Office in a timely manner. Eleven monthly payments will be deducted from the specified bank account beginning July 5th or 20th. Please refer to the FACTS agreement for information regarding fees charged for returned payments.
It is the responsibility of each school family to keep the Pastor or Parish Business
Manager informed of their need to make any changes to their preferred tuition payment plan, or adjustments to the amount of tuition expected to be paid.
After January, families who are current in their tuition payments will be sent a re-enrollment packet for the following school year along with instructions and dates for the re-enrollment process. Each re-enrollment form will require a registration fee per family
(amount determined annually by the Pastor in consultation with the Principal and Holy
Cross School Board). Families who are not current in their tuition payments jeopardize their ability to re-enroll for the following year until their account is up to date with current financial obligations.
Parish Assistance
| | |
| --- | --- |
| One Child: | $3,940.00 |
| Two Children, per child: | $3,890.00 |
| Three Children, per child: | $3,840.00 |
No Parish Assistance
| | |
| --- | --- |
| One Child: | $5,425.00 |
| Two Children, per child: | $5,375.00 |
| Three Children, per child: | $5,325.00 |
FACTS Guidance
Tuition is paid through the FACTS Management Program, either upfront as a lump sum payment or broken into smaller monthly payments over 11 months.
Parents who are active, registered parishioners at one of cluster parishes (Holy Cross, St. John, St. Maximilian Kolbe and St. Bartholomew) are eligible for a parish subsidy. Registered parishoners at other local churches may also request a subsidy from their home parish.
We do offer limited financial aid, on a first-come, first-serve basis. Financial aid is applied for through FACTS Management System.
Questions pertaining to this process may be directed to:
Katie Benedict, Business Manager
Cluster 22 Churches and Holy Cross School
Offices at St. Maximilian Kolbe Church
150 Black Point Road Box 57
Scarborough, ME 04070
P: 207-772-7489
Before And After Care
Unbelievable Value in Before & After Care for your Children
Holy Cross offers a wonderful Before/After Care Program from 7:00am until 8:20am and from 3:00 to 5:30pm. It is also available from 12:00-5:30 on early dismissal days. Before/After Care is available on a full time or drop-in basis.

There is an unlimited fee if you know you will need Before/After Care everyday or you can pay the hourly rate of $6 per hour for the first child, $3 per hour for each additional child if you will use it on a less frequent basis.

Our Before/After Care program is located in our cafeteria. Weather permitting, the children do go outside every day for physical play. On days when they cannot get outside, they may use the gym for a period of inside play. You must provide a snack for your child during this period. In addition, our Before/After Care Program offers many activities for the children.

For more information, please call the school and speak with the secretary for more information.
Before/After Care Tuition
First Child $6 per hour
Second Child $3 per hour
Unlimited Childcare per Child $2,600 for the school year
Pre-Kindergarten
Truly a fantastic deal in this area for a well-developed and well-resourced pre-kindergarten program for your child. Your child has access to all that is Holy Cross...gym, music, art, library, playground, student events and hot lunch program. Great preparation for kindergarten gets them off to a great start. Openings available all year based on vacancies.
Program Options and Tuition
Full day (8:20-3:00), 5 days a week $6,950.
Full day, 3 days a week $4,750

5 Half days (8:30-11:45) $4,450

3 Half days $3,125

5 full days with unlimited before and after care $8,450 per child