Uniforms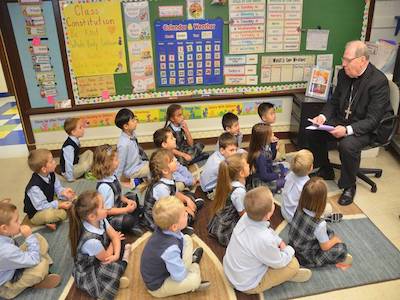 Uniforms are used at Holy Cross School and other Catholic schools for several reasons. We are very proud of our tradition of uniforms since research continues to show that students who wear uniforms tend to be more serious about their responsibilities as learners. In addition, they help to foster a sense of order in the classroom and they indicate to students that school is an institution to be respected. Finally, uniforms help lessen the impact of economic disparity present in any school.
The purpose of the uniform is, as stated above, to reinforce our Catholic values. It is not to cause undue stress or difficulty for families. If there are unusual circumstances that make complying with the uniform code difficult on a certain day, or for a certain period of time, please send in a note with your child or call or e-mail the office.
At Holy Cross School, we offer our traditional "formal dress uniforms", "warm weather uniforms", "cold weather uniforms" and "gym uniforms" for all students in Kindergarten through grade 8. Pre-K students wear the gym uniform as their everyday uniform, although they may wear the school uniform if they choose.
All uniforms are to be neat, clean, ironed and should fit properly.
Boys' shirts in the "formal" uniform are to be tucked in at all times during the school day.
Ladies formal uniform consists of the Peter Pan collar and jumper (K-4) and the skirt and "tuck out" blouse for grades 5-8.
Shoes should be in good condition and fit properly. No flip-flops or open toe sandals are permitted-even during dress down days. Shoes/sneakers of neutral and/or "non-loud" colors (such as white, blue, gray, black etc.) are to be worn with the school uniform and sneakers of "louder" colors may be worn with the gym uniform only. Shoes and sneakers should be tied at all times.
Earrings are permitted in the ears only. Distracting earrings are not permitted.
Body piercing in other parts of the body is not permitted.
Jewelry shall be appropriate and not offensive or excessive.
Unnatural or loud hair coloring is not permitted.
A complete uniform guide is available on the website.
Uniform Holidays
Once a month, usually on Thursdays, the students have a Uniform Holiday and are permitted to wear their casual clothes to school. Uniform Holidays are usually indicated
on the monthly calendar. As fads are ever changing the appropriateness of each one will be determined by the Principal. A good rule for Uniform Holidays (and the uniform in general): if you think you shouldn't wear it, you shouldn't. Shorts higher than mid-thigh length, halter tops, tank tops, exposed or bare shoulders or midriffs, and shirts or hats with offensive logos cannot be worn. No skinny jeans, jeggins, skintight yoga pants or leggings are permitted unless a shirt that covers below the mid-thigh accompanies the outfit (no exceptions). Advertisements on clothing/caps for alcohol, tobacco, or other inappropriate products are no permitted to be worn.
Each student pays $1 for the privilege of dressing casually. Proceeds from Uniform Holidays go to a grade or cause selected for that month. There are occasionally free Uniform Holidays with a "theme", for example Red for Valentines Day, Green for St. Patrick's Day.
Appropriate Dress for School Sponsored Activities
The Holy Cross School dress code, either uniforms or dress down guidelines, is in effect at all school sponsored events (i.e. field trips, dances). The school will inform you whether uniforms or dress down guidelines apply to specific events.