Student Activities
Atheletics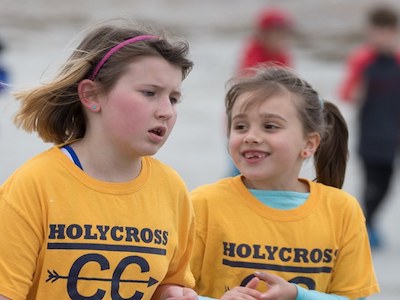 Growth and Competition - The Right Way
Holy Cross offers a variety of athletic opportunities for students in all grades. From basketball to cross country to chess, students are challenged to learn, to strive for excellence, to cooperate,and to build those talents with which they have been blessed.
Our athletes learn the phrase, "Every Play - Every Day - The Right Way." Holy Cross and its coaches emphasize Christian values within our sports. We learn to view success and failure as opportunities. We rejoice in the success of others and empathize in their failures and all times we praise God for our lives and these experiences.
Holy Cross offers sports for its students through several portals. Basketball is a traditional mainstay of our programs and programs are included for students in grades Pre-K through grade 8. In addition, Holy Cross is a participant with St. Brigid School in Portland in the Southern Maine Catholic program. SMC participates in the local middle school league sponsored by the Maine Principal's Association.
SMC offers:
Tennis
Youth Cross Country (grades 1-5)
Cross Country (grades 6-8)
Boys and Girls Soccer (grades 7-8)
Indoor Track (grades 6-8)
Outdoor Track (grades 6-8)
Baseball and Softball (grades 7-8) Grade level eligibility is set by the MPA.
South Portland Rec:
Holy Cross students are eligible to participate in many SP Rec programs due to their attendance at Holy Cross regardless of where they reside. SP Rec publishes seasonal catalogs of programs.
SP Boys and Girls Club
The SP Boys and Girls Club is situated about half a mile form the school on Broadway. The B&G Club offers a wonderful variety of after school programming including homework club, game room, and activities in the gym.
Membership at the Club is $5 per year and the Boys and Girls Club van picks up in our lot after school for a ride there. Middle School basketball players receive free membership to the club.
OM - Odyssey Of The Mind
Odyssey of the Mind is an international educational program that provides creative problem-solving opportunities for students from kindergarten through college. Team members apply their creativity to solve problems that range from building mechanical devices to presenting their own interpretation of literary classics. They then bring their solutions to competition on the local, state, and World level. Thousands of teams from throughout the U.S. and from about 25 other countries participate in the program.
The Odyssey of the Mind teaches students how to think divergently by providing open-ended problems that appeal to a wide range of interests. Students learn how to identify challenges and to think creatively to solve those problems. They are free to express their ideas and suggestions without fear of criticism. The creative problem-solving process rewards thinking "outside of the box." While conventional thinking has an important place in a well-rounded education, students need to learn how to think creatively and productively.
By tapping into creativity, and through encouraging imaginative paths to problem-solving, students learn skills that will provide them with the ability to solve problems -- great and small -- for a lifetime.
Holy Cross School has participated in Odyssey of the Mind for over fifteen years. We have been fortunate to send students to compete at the World level for many of those fourteen years, enabling them great success in their academic futures.