Faith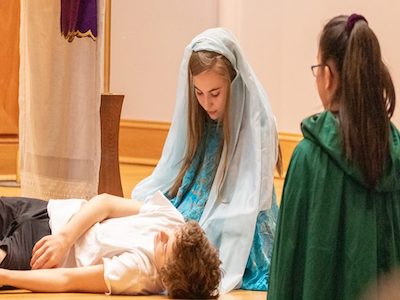 "Christ is the reason for this school"
This saying is part of a sign that is displayed in the entryway of our school and is present in all that we do at Holy Cross School from the way that we treat each other to the way that we teach to the way that we discipline.
God is Present Every Day in our Teachings
Students have:
Religion every day from 8:55-9:25
Attend weekly prayer services that are prepared and presented by our students
Attend monthly masses each prepared by one grade throughout the year
Prepare and attend Advent Candle Lighting services and Lenten Stations of the Cross, including a Living Stations during Holy Week
Crown the Blessed Mother every May - our tradition is that the Second Graders crown The Blessed Mother in their First Communion finest

We Share Prayer...

Every student from Pre-K to 8th Grade has a prayer Partner. Each of our upper grades is paired with a lower grade, Pre-K and 4th, K and 5th, etc. These partners are together weekly during our religion period and read to each other, do crafts and celebrate holidays together. Prayer Partners also sit together during masses and prayer services. The pride of our older students in mentoring and partnering with the younger children is a most precious thing to witness. The relationship and caring between students at Holy Cross is very special and creates a family feeling to our student body that is truly unique.
Learn To Serve Something Greater...
In addition to a large service project during Catholic School Week and various smaller ones throughout the year, our middle school students assist at our local Food Cupboard one day a week. In past years, our Catholic Week Service Projects have supported entrepreneurs in developing countries by offering micro-loans through KIVA.org to 10 deserving people who were trying to grow or start a business in countries from Guam to the Congo to Kenya. We will be following those entrepreneurs and picking new people to support when the original loans are repaid. We have also collected funds, donations and resources for other charitable groups like our local Animal Refuge League and "Stuff the Bus" where students bring in gifts for Christmas donations.
In addition our students...
Find opportunities throughout the year to share grace and provide services, we have at times:
Held a middle school service day in the Spring for the students to clean the school and church parking lots of winter debris and sand
Held a penny drive for our local food cupboard
Donated books to a schools and orphanages