Art, Music, & Drama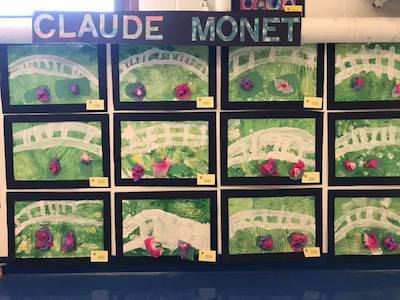 Art
We have a fantastic art program that teaches children stylistic art by studying the periods of art and art history. Each student works on a number of projects yearly to include working in the style of manner of the masters. These creations are proudly displayed at our annual Holy Cross Art Show. Children come with families to show their art work and explain the process. Monthly our children's work is displayed in the cafeteria and art room of the school. Students also get to work in clay media and we fire the work in our own kiln.
Music
All students at Holy Cross have music classes up to twice a week. Students in grade three and four participate in the school choir as part of the music curriculum. Middle school students wishing to sing in the choir are encouraged to join. The choir sings for all school Masses. The school choir sometimes participates in Sunday morning Masses during the school year.
The music program at Holy Cross explores the basic elements of music: rhythm, melody, harmony, form, and tone color. Various instruments are used during music courses.
Drama
Drama productions are developed in conjunction with different school themes, holidays and celebrations. These productions are at times part of course curriculum and at other times extra-curricular.