Academics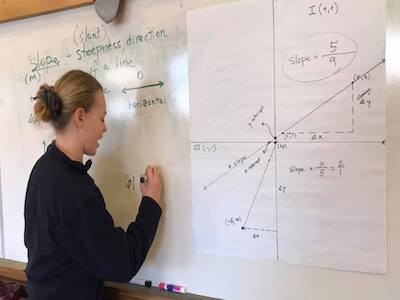 We Hold The Bar High and Teach Our Students to Leap!
We pride ourselves on our proven excellence in education. Our students are held to high standards and they live up to them. We feature an education that focuses on the basics of Math, Science, Social Studies and Language Arts, including vocabulary and grammar as well as reading and writing. These subjects are enhanced by Latin, Technology, Music, Art and Physical Education. We also work with Junior Achievement to provide learning programs. We teach writing and reading in cursive when many public schools have decided to stop teaching this skill. We give all students many opportunities to speak in public during church masses, readings and other speaking assignments at school. Children as early as pre-kindergarten love to be heard during our assemblies.
Curriculum
Classes at Holy Cross School are designed to meet the student's fundamental academic needs. The subjects included in the curriculum are Religious Studies, Reading and Language Arts, Mathematics, Social Studies, Science, Middle School Latin, Technology, Art, Music, Drama and Physical Education. Our strong curriculum is enhanced by meeting students where they are academically. Our students develop self-confidence, self-respect, strong academic skills and are very well prepared for high school. Our Faculty's goal is to create the best possible atmosphere for learning using a variety of techniques to meet each student's learning style and need. Each student is expected to participate in all class activities, assemblies, projects and assignments unless there are extenuating circumstances that have been discussed with the family/student, the student's teacher, and the Principal.
We utilize one-to-one laptops for grades 5-8 and one-to-one ipads for grades 3 and 4. Additional iPads are available for grades PreK-2. E-textbooks are utilized as well.
Progress Reports
Holy Cross School academic calendar is based on trimesters. Progress reports are available halfway through the trimester; however, the parent portal for grades 3-8 allow a parent to view their child's progress at any time.
Report Cards
Report cards are distributed at the end of the trimester after the Trimester Assembly. The Trimester Assembly recognizes those students who have made the honor roll or who have earned other recognition during the current trimester.
Faculty
The Faculty at Holy Cross School is made up of highly experienced and dedicated State of Maine Certified Professionals. They continue their professional growth with recertification programs and are members of the National Catholic Teachers Association. Their faith, enthusiasm and commitment to excellence are truly outstanding.
Grading System and Honor Roll
Grading System and Honor Roll: The marking system consists of letter grades for third through eighth grades and a Learning Key for Grades Pre-Kindergarten through Grade 2.
Learning Key
Pre-Kindergarten, Kindergarten:
4 exceeds expectation; 3 meets expectations; 2 progressing towards expectations; 1 not yet met expectations

Grades 1-2:
VG Very Good; G Good; S Satisfactory; N Needs Improvement.

Grades 3-4:
Academic:
A+ 95-100; A 90-94; B+ 85-89; B 80-84; C+ 75-79; C 70-74; D Below 70

Behavior/Effort:
3 Above Expectation; 2 At Expectation; 1 Below Expectation

Grades 5-8:
A 95-100; B+ 90-94; B 85-89; C+ 80-84; C 75-79; D 70-74; F Below 70

Behavior/Effort:
3 Above Expectation; 2 At Expectation; 1 Below Expectation
Honor Roll = A's and B's or 85 and above for students in grades 5 - 8. High Honors = All A's or 95 and above for students in grades 5 – 8.
Honor Roll = A's and B's or 85 and above for students in grades 5 - 8.
High Honors = All A's or 95 and above for students in grades 5 – 8.
Special Education/Individual Education Plans
Individual Education Plans are evaluated on a case-by-case basis. Due to the small number of faculty positions available at Holy Cross School we may not be in a position to support the specifics of the IEP. The Principal, in conjunction with the parent(s) and student(s), will review the IEP and discuss if the plan can be met with a successful outcome for the student.

Homework
Class work & Homework: Teachers must establish and enforce standards for work that encourage students to put forth their best effort. A student's attitude is reflected in the appearance of his/her work. Neatness is expected!
The following are approximate guidelines for homework times:
Grades 5-8: 1.5 - 2 hours per night (Combined subjects)
Grades 4: 60-75 minutes per night
Grades 3: 45-60 minutes per night
Grades 2: 30-45 minutes per night
Grade 1: 20-30 minutes per night
Grades PreK and K: "Reading to or with parents weekly is encouraged!"
Homework is generally not assigned over weekends or school vacations except for long range assignments, make-up work, or studying for exams.
Middle School students are to sign in on the clipboard on Mrs. McVeigh's desk when they arrive to school. If Middle School students chose to go outside at 8:20am with the other PreK – 4 students they need to remain outside until all the students enter the building at 8:35am.
What A Holy Cross Graduate Looks Like
Reflecting on some of the qualities our parents, teachers and staff expect our graduates to possess, here are our thoughts:
A discerning believer formed in the Catholic Faith community who celebrates the signs and sacred mystery of God's presence through the word, sacrament, prayer, forgiveness, reflection and moral living.
An effective communicator who speaks, writes and listens honestly and sensitively, responding critically in light of gospel values.
A reflective, creative and holistic thinker who solves problems and makes responsible decisions with an informed moral conscience for the common good.
A self-directed, responsible, lifelong learner who develops and demonstrates his or her God-given potential.
A collaborative contributor who finds meaning, dignity and vocation in work, who respects the rights of all and who contributes to the common good.
A caring family member who attends to family, school, parish and the wider community.
A responsible citizen who gives witness to Catholic social teaching by promoting peace, justice and the sacredness of human life.