School Safety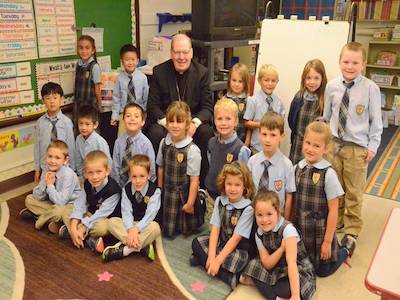 Safety Procedures
Emergency Procedures
Holy Cross utilizes the Honeywell calling system for emergency and other notifications. In case of an emergency the Honeywell system will send an e-mail, text, and phone message to the parent(s) of the student(s) notifying them of the situation.
Fire Drills
Holy Cross School practices fire drills once a month. A fire drill log is kept in the main office and the South Portland Fire Department is notified at each drill. Holy Cross School is inspected by the Fire Marshall each year for compliance of State Regulations. The School is part of an ABS system that is directly wired to the South Portland Fire Department.
Lock Down Drills
As part of our emergency procedures Lock Down Drills are practiced on a regular basis.
Mandatory Reporting
Any employee, which includes all school employees, parish employees and any volunteer working in a Maine Catholic School, who has reasonable cause to suspect that a child has been or is likely to be abused or neglected must immediately report this suspicion and the basis thereof to the Principal of the school. Abuse or neglect is defined by state law as "a threat to a child's health or welfare by physical, mental or emotional injury or impairment, sexual abuse or exploitation, deprivation of essential need or lack of protection from these." In addition to notifying the building Principal, the employee must also make a report directly to the Department of Health and Human Services (DHHS) or the District Attorney when the employee believes a direct report will better protect the child in question. By agreement between the teacher and the Principal, the Principal may make the report to DHHS.
Harassment On-Line
Holy Cross School provides a safe environment for all individuals. Verbal or written threats made against the physical or emotional wellbeing of any individual are taken very seriously. Students making such threats (seriously or in jest on-line) face detention, suspension, and/or expulsion. Harassment of any type is not allowed. The Principal investigates all complaints of harassment.
Students involved in harassing behavior face detention, suspension, and/or expulsion.
Engagement in harassment using on-line sites such as, but not limited to Snapchat, Instagram or Facebook may result in disciplinary action if the content of the student's post includes defamatory comments regarding the school, the faculty, other students or the parish.