About Holy Cross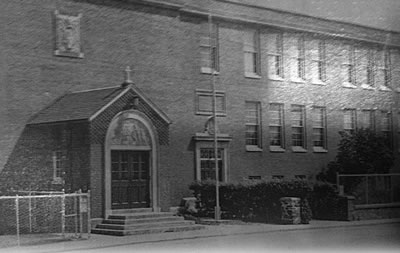 History- Proud Past, Bright Future
The original Holy Cross Church was established and blessed on July 6th, 1913 and has been serving South Portland Catholics since then. Holy Cross School was established during the tenure of the church's second pastor, the Reverend Frederick A. Karpe. Holy Cross school was staffed by the Sisters of Mercy.
The church was rebuilt due to parish growth and on September 15th, 1957 using the same cornerstone from the original church building, the new building was blessed and underway. The church as it stands today was dedicated on September 14th, 1958. Holy Cross later built a convent for the Sisters of Mercy completed in 1963.
When Holy Cross School opened in 1937, the Sisters of Mercy welcomed about 100 students.
Holy Cross School is the parish school to serve children of parishoners from St. John and Holy Cross (South Portland), (South Portland), St. Maximillian-Kolbe (Scarborough) and St. Bartholomew (Cape Elizabeth).
Mission Statement of Maine Catholic Schools
The mission of the Catholic Schools in Maine is to strengthen the Catholic Church and to create an environment in which the faith is preserved, nourished, shaped and communicated to foster values that give meaningful direction to the Christian family and society. This is accomplished through dedication to the growth, development and formation of the student by proclaiming the message, creating community, providing service and celebrating worship so that our students will become faith-filled Christians, creative and critical thinkers, life-long learners and confident contributors.
Mission Statement of Holy Cross School
Holy Cross School consists of creative and dedicated students, educators, parents and community members who are centered on Gospel values. We are dedicated to nurturing the spiritual, moral, intellectual and social development of each child. We deliver a quality Catholic education focusing on academic excellence, self-discipline, and respect for each other in a caring, affirming community. Our students develop into productive, ethical and socially responsible citizens.
Our Philosophy
Convinced that each student's growth is enhanced in an environment where structure, affirmation, consistency and self-worth are valued, Holy Cross School seeks to create an atmosphere and provide opportunities that will foster the implementation of these values. We believe each child is assisted in reaching his/her God-given potential when participating in a Christian-centered program of education and formation.
In these times of busy and hectic lives we face challenges staying in touch and influential in our children's lives. We believe that school is even more important than in the past. Your children spend many hours in the care of teachers and school staff and the more this environment can enrich our children, beyond curriculum, the better. We feel education can and should be more than just letters and numbers:
At Holy Cross...it's about values
At Holy Cross...it's about learning responsibility
At Holy Cross...it's about parental involvement
At Holy Cross...it's about life skills
At Holy Cross...it's about developing confidence and Faith
At Holy Cross...it's about your child
We aim to develop a whole child who can tackle life as well as academics. Gospel-centered values help to nurture spiritual, moral, intellectual and social development of our children. In times of over-riding media influence and technological "plug-in", simple values and basic issues are building blocks that cannot be overlooked. This leads to academic excellence focused on self-discipline and respect for each other. Our goal is to help develop students who can be citizens who are productive, ethical and socially responsible and have the tools to pursue lives that are full and meaningful.
God is present everyday in our teachings. We help our children realize that there is something greater to be served in our lives and we watch our students develop maturity, pride and concern for others...a very precious gift.
Holy Cross School does not discriminate on the basis of race, religious beliefs, color, sex, national or ethnic origin in its admission policies, its treatment of students or its employment practices.
At Our School, Family Matters
It cannot be overstated that an integral part of our success with our students comes from family involvement. It's not hard to understand that a child's parent will solidify the lessons taught by any school and curriculum. We are no different in that respect but because we are a small community with a strong parent presence our kids are watched over in a special way. Values are reinforced by staff and parents alike. Interactions and relationships that form between parents make this connection to our kids very strong.
Because our school is privately funded, parental involvement is key to helping us fundraise throughout the year. We interact as families at large and small events and enjoy a depth of community with each other. Everyone experiences ownership at some level of the school. All efforts and talents are appreciated and needed. Volunteering occurs in the classroom, at extracurricular events and at Home and School programs.
Some of the ways you can become involved include: Becoming a room parent and assisting teachers with projects Participating in our Spiritual Events such as weekly Prayer Services and Masses Chairing or serving on an HSA (Home and School Association) committee Chaperoning a class field trip Coaching a team Working on fundraising and/or spiritual events Serving the Cluster Parishes
We hope that you will join our community and find yourself involved with your child in newer and deeper ways than school often allows. In an ever busier world, it's even more important for the community to help raise the child.